Electrolux Gas Producer
The Electrolux gas producer unit seen below was manufactured by Electrolux in Melbourne (Australia) as a petrol substitute for cars up to 30 horsepower (hp). The main components of the unit are a large cylindrical charcoal burner with a circular hinging lid, a generator, and a filtering and cooling system. At the rear of the unit there is a black steel mounting bracket fitted for attachment to a motor vehicle.
This particular unit is a heavy duty up-draft type, advertised by Electrolux as the "C" or "Senior" model, which, unlike the smaller "Junior B" model, additionally employs a water system which enriches the gas produced by the unit, while reducing charcoal consumption. Larger models designed for truck use were also made by Electrolux and a number of other local manufacturers.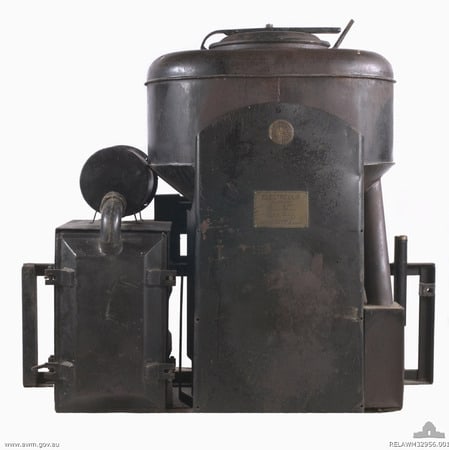 There were at least 45 registered gasifier manufacturers in Australia in 1941 and the Electrolux gas producer was one of those.