Gasifier Wood Stoves
Here are some videos and images of gasifier wood stoves built by our members. You can of course build or make your own gasifier wood stoves from plans available in our download section.
Gasifier Wood Stoves with links to manufacturers
Africa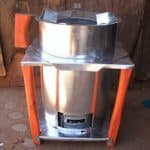 The Mwoto Quad3 stove is a Top Lit UpDraft (TLUD) micro-gasifier stove burns dry biomass fuels into char through the pyrolysis process. The Awamu Biomass Energy company is in Uganda, and the stove is based on Dr. Paul Anderson's Top-Lit UpDraft (TLUD) design which you can build yourself with his plans from our download section. These gasifier wood stoves use readily available biomass including wood, maize cobs, twigs, uncarbonized briquettes, papyrus among others. Awamu stopped production of the Quad3 stove in January 2014.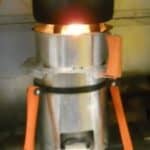 The Troika Bingwa stove is a Top Lit UpDraft (TLUD) gasifier cookstove made by Awamu Biomass Energy Ltd in Uganda. The stove uses pyrolytic gasification technology for exceptionally clean burning of inexpensive agricultural residue or free thick, dry, biomass fuels. The Troika stove is a version of the QUAD3 stove, with three legs, an easier reactor (pot support). Its made from 100% locally available materials and is appropriate for households businesses that have access to biomass fuels.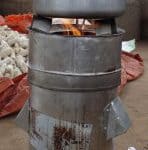 The MWOTO  gasifier wood stoves were developed within the 'Promoting Improved TLUD Cookstoves in Uganda" project by CREEC. It's one of the Biomass Energy Initiative for Africa (BEIA) projects running across Africa. These gasifier wood stoves are made out of steel, and about 80 tinsmiths have been trained by CREEC to manufacture these stoves in the districts of Mbale, Arua, Wakiso and Kawempe, Nakawa, Entebbe and Kisenyi divisions of Kampala. The MWOTO was designed by CREEC together with Professor Anderson from USA from the 2008 champion stove model. It was first introduced to the Ugandan market in September 2011 and the project is targeting tinsmiths and people who use biomass as a fuel to cook.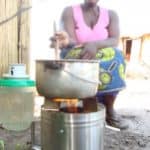 Another well known line of gasifier wood stoves is the Peko Pe which was designed by the Norwegian architect Paal Wendelbo in the 1920s and was used in refugee camps in Uganda. The name is said to have come from a woman who remarked after using it "Peko Pe" which in the native local language meant "no problem". The Peko Pe TLUD ND stove which stands for Top Lit Up Draft, Natural Draft is designed to use with different types of Biomass. For example it will burn Maize cobs, wood chips or chunks, ground nuts, grass and more. The Peko Pe mission aims to reduce mortality in women and children by providing a clean burning, fuel saving cooking stove which decreases smoke while cooking. Project OSCAR in Zambia have trained people in production of gasifier wood stoves for health and sustainability reasons.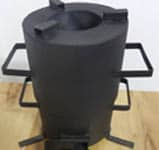 The Jiko Bomba, "Stove Pipe" is made by Kiwia & Laustsen Ltd in Tanzania. The stove is marketed by TREE Ltd., With support from the Department of Agriculture of the United States, and Partners for Development. The stove uses pellets as fuel manufactured from various crop residues in Tanzania such as rice bran, corn, sunflower, cashew nuts, coffee, castor etc. Partners for Development and its collaborators launched the at agricultural fairs in August 2011 in Singida region, from Shinyara to Arusha.
Costa Rica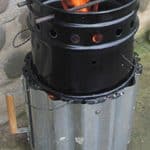 Pioneered by Art Donnelly from Seachar.org. These gasifier wood stoves use biomass gasification technology and also produce biochar. Biochar is a fine -grained, porous charcoal that can be used as a soil amendment . These gasifier wood stoves can be built with almost totally recycled materials. It is larger than most TLUDs as it uses a 20 liter (5 ‐gallon) drum t as its fuel chamber.
India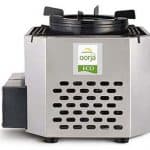 The Oorja Pellet Stove on the right is perhaps one of the best known TLUD gasifier wood stoves marketed by First Energy Pvt. Ltd., which is an alternative energy company based in Pune India. First Energy was launched in 2006 through BP energy, a 100% subsidiary of British Petroleum. This is a swanky unit that looks attractive and is fan assisted (rechargable NiMH battery pack) unlike  'natural draft' type stoves. The combustion chamber is also ceramic with a cast iron bottom grate.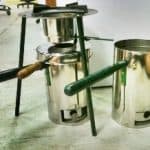 The Servals TLUD Gasifier Stove is made by Servals Automation Pvt Ltd based in Chnennai. It is a social enterprise engaged in the manufacture of socially relevant products focused primarily on providing clean, green, affordable and indeed sustainable energy for cooking and lighting purposes. The present design used by Servals has been given by Dr. Paul S Anderson of US, with initial financial support for the Chennai project by the Rotary Club of Bloomington-Normal Sunset (Rotary District 6490 – East Central Illinois). Servals teams up with NGO implementation partners to deploy these stoves in communities. The User Feedback Study from 50 households provides insight into how effective gasifier stoves are, in particular the Servals TLUD.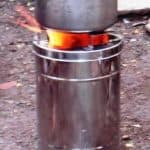 The Sampada Gasifier Stove is made by Samuchit Enviro Tech in Pune, India. These are portable metallic  gasifier wood stoves fueled by dry woody twigs, wood shavings or wood chips. The fuel is put into the fuel chamber and lit from the top. One full charge of fuel keeps the stove in operation for about 1 hour. The charcoal left behind in the fuel holder after the stove operation is a useful by-product.  The company also makes a number of other products including, water heaters, large gasifier wood stoves for canteens, caterers or roadside eateries.
Shakti Rice Husk Gasifier Stove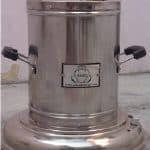 by Sasoenergy in India. Claims 1 Kg of Rice Husks will provide efficient burn for 70 minutes (it can be more/less, depending on rice husk quality). Sasoenergy believe in empowering women to address their immediate needs and to build long-term clean cooking solutions for the future. They also make gasifier wood stoves which hold a 700gram load and is a natural draft top loading for continuous operation. No prices but contact details are on the site.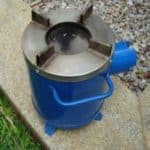 The Super Turbo Wood Stove is made by Harith Avani Technologies in Bengaluru, Karnataka, India. There are a number of different sizes, but this one is available with a top loading single pot design. This unit can use coconut shell, wood chips, pellets as combustion material and is suggested to be suitable for family of 3-4 members. Weight is 4 KG, dimensions of 1 X 1 Ft. One of the most robust and straightforward wood gasifer stoves designs.
Indonesia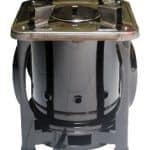 The Prime Square  gasifier wood stoves were previously known as the UB.03-1 Biomass Stove. It was invented by Dr. M Nurhuda and tens of thousands have now been sold. These wood gasifier stoves uses a pre-heating and counter-flow burning for bulky fuel, and a diffuse combustion mechanism for granular fuel. Each fuel type has its own combustion chamber. Fuels that can be used are for example woodchips, wood shavings and sticks (maximum size 2 – 4 cm) and corncobs. Leaves or plantation residues in the form of pellets or briquettes or pellets made from a blend of biomass and coal can also be used. Compared to the traditional three-brick stoves, the Prime Square stove can save up to 80% of fuel, while producing no smoke during operation if fuel is properly dried.
Phillipines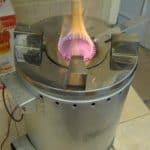 The Belonio Rice Husk TLUD was developed by Alexis Belonio from the Philippines. This award winning design of  gasifier wood stoves provides homes with a cost effective and clean burning  stove that uses rice husks as fuel. The husks are gasified inside a top-lit updraft (TLUD)reactor that produces the gaseous fuel.  The stove is being produced by companies across the Philippines, Indonesia, and Cambodia. According to Belonio the stove can save a family of rice farmers around $150 per year in fuel expenses. If anyone knows where to purchase these stoves, please contact me.
United States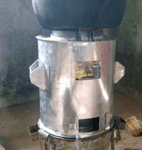 Wisdom Stoves is a non-profit organisation and is based in Vermont. It manufactures a variation of the t-char stove. The work performed in the U.S. is aimed at benefitting Wisdom Stoves based in North Kinangop, Kenya. The majority of daily operations are performed in Kenya, including the manufacturing, sales and distribution of gasification cookstoves. The Malaika jiko is a TLUD design; a top lit up-draft gasification cook stove. It is designed to burn biomass including wood, corn husks, cow dung, coffee husks, dried bio mass briquette, and other, as of yet unidentified fuels.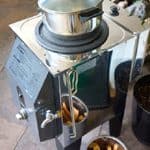 SilverFire operations are located in Eugene, Oregon. The SilverFire mission is to facilitate the availability of technologically advanced biomass clean cooking products, for both commercial and humanitarian use. The Water Dragon fixed chimney fan stove is similar to the Home Fire Dragon, with the addition of a 3 gallon water reservoir attached to the rear of the stove that is passively heated by the chimney.
See also Gasifier Solo Camp Stoves