Powell Gas Producer
The Powell Gas Producer came into its own with the advent of petrol rationing which was introduced into Australia in July 1940. The petrol rationing was severe, restricting private motorists to about 40 miles per week. This was well before the days when Australia's Bass Strait oil fields were even thought of, and all fuel was imported.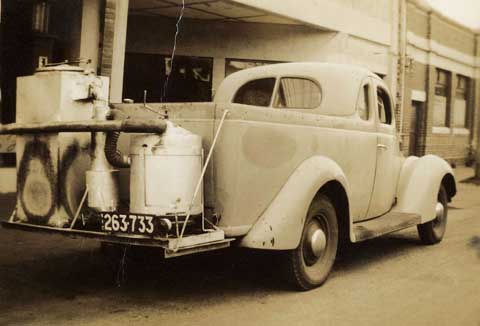 The Powell Gas Producer units burned wood, coal or briquettes to produce a gas which could be burned in place of petrol and thus power the engines.
Ford Australia worked with the University of Melbourne, the Vacuum Oil Co (later to become Mobil), Shell Oil Company, and the Powell Gas Producer Co to develop an efficient gas producer which would not gum up the engine with tar or cause excessive wear because of too many dust particles.
The result was a highly efficient version of the Powell Gas Producer (built in Perth, Western Australia), so Ford began mass production and fitting to new vehicles plus selling as after market units to fit to existing vehicles. Too bad they aren't on the "extras" list of new cars today. There were a number of gas producer manufacturers in Australia, Electrolux being one of them.