Regular Wood Stoves
Experts such as Dr TLUD, Thomas Reed and Paul Wever say the distinguishing characteristic of "true gasifiers is that the creation of the gases ("smoke") is separate from where the gases are combusted. Of crucial importance in these (and in any stove) are the flows of primary and secondary air.  In the gasifiers, the flows are separate.  In most regular wood stoves, they are mixed". Regular wood stoves like those below are much more efficient and safer than cooking on open fires, but they aren't gasifier stoves.
Africa
EcoZoom Stoves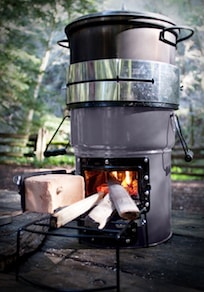 by Vuthisa Technologies in South Africa. The Stoves burn cleaner, use less fuel, and are more economical than many other stoves. It's based on the rocket stove design principle, invented by Dr. Larry Winiarski from Aprovecho Research Center (ARC) USA. The original StoveTec range of stoves was launched in 2008 and Aprovecho won the prestigious Ashden International Energy Champion Award for 2009. They have disseminated over 70,000 stoves to impoverished communities in the last year and have a production capacity of 500,000 per year. The first StoveTec stoves arrived on the market in 2008 and they are all still going strong. The stove can be used with a variety of fuel types in addition to wood including dried corn cobs, grass, roots, dung or any other readily available biomass. They also sell a 2-door stove unit which has a durable cast iron grate that filters out ash (and produces charcoal) and this specific model can also accommodate the use of charcoal or charcoal briquettes. Price around $US50.00 plus freight.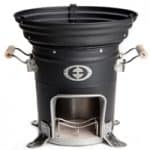 The M-5000 Stove is designed for localized mass production by Envirofit International. Production is underway in the first African manufacturing facility in Nairobi, Kenya. Thermal effciency is 29.7% measures 28×32 cm (11×12.6 inches) and weighs 4.2 kg or 9.2 pounds. Combined with regionally-optimized components, such as market-specific handles and customized locking pot skirts, the M5000 marks a new era in regular wood stoves, bringing together precision performance and direct local economic impact.
India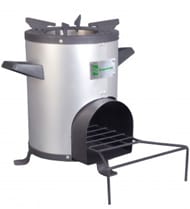 The Greenaway Smart Stove is single burner, regular wood stove designed for long-term, everyday use. Greenaway has main headquarters in Mumbai and a Bangalore Offcie in Southern India. The stove can use any type of solid biomass fuel including, wood, cow dung and agricultural waste. The patent-pending design produces 70% less smoke and uses 65% less fuel than traditional mud cookstoves. It adds convenience to users' lives by reducing the time and/or money they must spend collecting or buying fuel and allowing for a more comfortable cooking experience. It has been tested and certified by the Ministry of New & Renewable Energy (MNRE), Government of India.
United States
StoveTec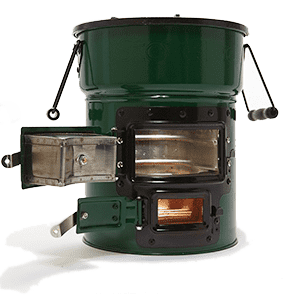 is based in Oregon, United States and has shipped 70,000 stoves internationally over the past two years to countries including India, South Africa, Uganda, Tanzania, Madagascar, Chile, Argentina, the Marshall Islands, and Haiti. The company was created in 2008 as a not-just-for-profit group that would act as the technology transfer recipient for Aprovecho Research Center. The Eco Ceramic 2 Door features hinged upper and lower doors for biomass or charcoal fuels. The larger upper fuel door has an attached fire brick and can be closed for charcoal use, while the lower hinged door helps regulate updraft airflow. Both doors feature reinforced metal frames and long lasting hardware. Highly efficient ceramic insulation is used in the chimney, fire chamber and floor plate helping the heat up and out of the stove instead of trapping it inside. All two door stoves include a galvanized pot skirt, fuel feed grate and a secondary internal grate for charcoal use. The stove measures 11 x 12 1/2 @ 25 lbs. They make 1 and 2 door regular wood stoves and prices range from US$80 to $160 for the deluxe version.