Straw Gas Car
The straw gas car was built in 1917 by an engineering professor from the University of Saskatewan the Straw Gas Car didn't see widespread application. The gas balloon looks like a bomb waiting to go off above!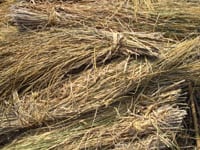 This car didn't have an onboard gasifier as such but used the gas from the balloon to power the engine. The gas was generated by heating straw bales in a retort (a retort is an airtight vessel in which the straw would have been heated for a chemical reaction which produced the gas to be held in a collection vessel) and transferred to the balloon.
The balloon was held above the car, and the outlet hose went from the balloon to the engine carburetor. Using a valve in the the car it could run on gasoline or switched across to the straw gas coming from the balloon.
The straw gas car in the video below was recreated at the Western Development Muesum where they used a McLaughlin car from their collection to make a replica of the old straw bomb.