Wood Furnaces
Before we begin singing the virtues of wood furnaces for heating it might pay to read Why your wood heater is a bad idea by by Fay Johnson. If you can't be bothered, her summary is this: "I still love wood heaters, but owning one meant owning its pollution. Even if we achieved consistently prefect operation, I knew that other heating choices would be better for the environment and the community. We replaced our heater with a less polluting alternative. It's a bit less evocative but does come on at the flick of a switch."
Having acknowledged that poorly designed wood furnaces are a source of pollution in towns and cities, the New York Dept of Health provides this information of gasifier type wood furnaces:
"Dual-stage wood gasification boilers are the most efficient firewood burning units available on the market today. They can be installed indoors or in a structure close to the home. They are called dual-stage because the smoke and gasses are burned in a hot secondary chamber with temperatures much hotter than an outdoor wood boiler. This high efficiency design results in much less smoke, however, they also have more exacting fuel wood requirements. They work best with very dry wood and will not operate with poorly seasoned wood. They also work best when operated with an auxiliary heat storage water tank since this allows the entire charge of wood to be burned continuously, further improving efficiency. The stored heat is then used over time depending on demand. When operated during the non-heating months with an auxiliary heat storage water tank, gasification units only require a fire about every four to seven days depending on how much hot water you use.
Heat storage water tanks are insulated water storage tanks used to store heat, allowing a boiler to operate most efficiently by burning the firewood hot and fast. The stored heat can then be used for heating your home as needed. Heat storage water tanks work well with gasification boilers, and can also be used for solar heat storage."
Austria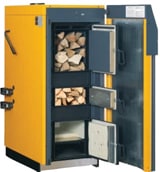 ETA SH Wood Gasification Boilers are made by ETA Heiztechnik in Hofkirchen an der Trattnach, Austria. The company makes both wood and pellet models. In true gasification style, and before the wood burns it is converted into gas by application of heat. The decomposition into 20% charcoal and 80% wood gas begins at 200°C, which results in the long gas-flame of this wood fire. The fuel chamber accommodates enough half-metre logs to ensure that replenishment is only necessary once a day, or twice on cold winter days. The emission levels of the ETA SH are already below the strict dust emsission thresholds that will come into force in Germany on 1 January 2015. ETA produces 10,000 boilers a year and exports to Germany, Italy, France, Luxembourg, the Netherlands, Belgium, Switzerland, Ireland, the UK, Slovenia, Czech Republic, Spain and Japan.
Canada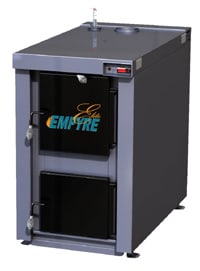 Empyre gasifier boilerEmpyre wood gasification boilers are made by Pro Fab Industries Inc in Canada. Founded in 1989 Pro Fab are on of North America's biggest designers and manufacturers of alternative heating. It has 5 manufacturing facilities across three countires and has a wide range of gasifier units. It is a dual combustion downdraft system and is EPA White Tag qualified. Stated efficiency is 89% and there is the option of using wood or an electric mode for those times you run out of wood. In many locations, standard heating costs can greatly outweigh the cost of operating wood furnaces. Cord wood is an affordable resource that is easily accessible in many areas. The Empyre indoor and outdoor wood gasifier models claim to reduce fuel requirements by as much as 50% over traditional wood furnaces.
Czech Republic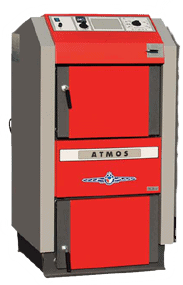 ATMOS Gasification Boilers are made at Bělá pod Bezdězem, in the Czech Republic. The family company ATMOS was founded in Bohemia in 1936 and has developed over 70 types of boilers under 13 patents. It is currently one of the largest European manufacturers of boilers. The reverse and ceramic combustion chamber optimizes combustion with minimum polluting emissions. Heating is not lost when the electric power fails, and it operates at up to 70 percent of its rated output, without the fan. The boilers comply with environmental requirements according to Guideline No. 13/2002 of the Czech Ministry of Environment. They also comply with European Standard EN 303-5 and all the boilers rate in class 3.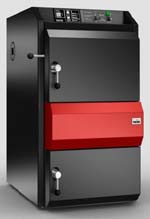 TheVERNER G25D is a pyrolitic wood gasification boiler manufactured by VERNER Inc in the small town of Červený Kostelec, Czech Republic. Rated at 25kW (also a 45kW version) the wood furnaces inner walls are made of steel plates with thickness of 5 – 6 mm. The combustion process is controlled by a lambda probe, which evaluates the oxygen content in the flue gas and according to measured data, it controls the optimum amount of supply of primary and secondary air. The boiler has a heavy ceramic lining with microreinforcement for long term permanent heat assurance. The boiler is designed for economical and comfortable heating including heating of hot water in houses, cottages, shops, workshops, etc.
Germany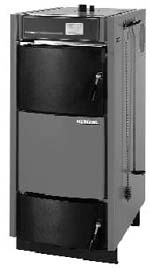 The German made KÜNZEL Wood Gasifier Boiler BTis offered in different power levels ranging from 23 to 31 kW. It is suitable for single or two-family homes as well as for small to medium-sized commercial and office buildings and can be used alone or in combination with other heat generators. It will take logs and scrap wood with a length of approx 1/3 to 1/2 meter. Control is through lambda processor control panel 621 with buffer accumulator regulation. There are two separately controlled air blowers for primary and secondary combustion. With almost 100 years of experience, KÜNZEL holds a leading market position in wood heating technology. The company has produced 40,000 wood gasifier boilers since 1986 and many of the systems from the first years are still running.
United Kingdom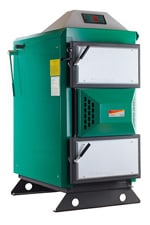 eco angus gasifer boilerThe Angus Super Gasification Log Boiler (England, Ireland and Scotland outlets) is available in 7 models, 18, 25, 40, 60, 80, 100 and 130kW. We don't know where the wood furnaces are manufactured… Claiming 92% heat efficiency gases are burnt off in true gasifier style and with minimal ash output. These boilers can an alleged payback period around 3 years over LPG, Gas or Oil. Units can take logs from 500mm to 1000mm long and 6″ to 10″ diameter depending on the size of boiler. Using downdraft gasifier technology, this boiler burns the gasses produced during the normal burning process, therefore allowing minimal CO2 to be released into the atmosphere. The secondary burning chamber burns gasses at up to 1200 degrees centigrade. Regulated by a digital display panel which controls the ventilator fan, this the boiler is said to be 92% efficient. The boiler has a large log chamber which holds enough wood for up to 12 hours burning.
United States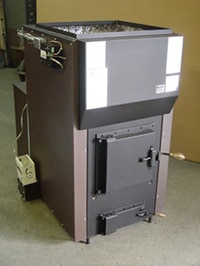 The Kuuma Vapor-Fire 100 is made by Lamppa Manufacturing Inc., in Minnesota. The furnace takes wood about 20″ in length and requires seasoned wood that has an 18-28% moisture content. It has a large 2-speed blower that delivers 500 to 1500 CFM (cublic feet per minute) on demand, controlled by a thermostat. It can stand alone as a central furnace, or be used as an add-on to an existing oil, gas, or electric furnace. The bonnet opening is 2'x2′ and the heat duct outlet should be 180-200 square inches to prevent excess back pressure on the blower system. It gives a clean, safe, and automatic front to back burn that delivers even heat for 10-12 hours per load followed by many hours of coals. Even heat output results from the front to back burn principle in VaporFires. It heats approximately 3500 square feet.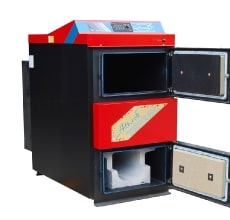 The Attack DP Profi wood gasifying boiler is made by New Horizon Corporation in Sutton, West Virginia. It is designed for economical heating of family houses, small plants, and workshops. The Attack range of wood furnaces require dry wood and the feeding chamber when full burns somewhere between 8 to 12 hours. The furnace is controlled by an electronic regulator which checks the water temperature in the boiler and the value is shown on a display. At the same time, it controls the waste gas ventilator and central heating pump. Due to the process of gasification smoke and other emissions are reduced to a low level.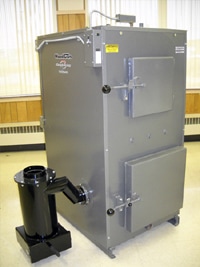 The Wood Gun wood gasification boiler is made by Alternate Heating Systems in Pennsylvania. The AHS Wood Gun is available six sizes with residential units ranging from 100,000 to 250,000 BTU's and commercial sizes up to 1,000,000 BTU. The Wood Gun cycles on and off much like an oil or gas fired boiler. During the off cycle, fuel is not consumed because oxygen is not present in the combustion chamber. With the large superheated refractory mass, re-ignition of the fuel occurs automatically when a drop in water temperature signals the need for heat. (Automatic re-ignition will take place up to 5-6 hours depending on boiler size.) Wood Gun boilers use 1/4″ thick 304 stainless steel in the construction of the firebox and door frames. Some of AHS stainless steel boilers have been in service for over 27 years showing no signs of deterioration.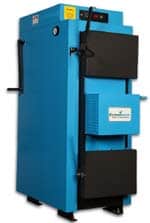 The EBW-150 is made by Econoburn Boilers from Brocton, New York. Econoburn's wood-fueled boiler is a closed-loop system with gasification process that delivers an 87% thermal efficiency rating. It is constructed of double-welded 1/4″ ASME grade 36 carbon steel, and rated at 150,000BTU. Other sizes range from 100,000 to 500,000 BTU. While the burn time varies with wood type and moisture content, it is expected from a properly-sized system to range from six to eight hours on a cold day. An industrial-grade touch pad control unit is used to optimize combustion efficiency. Installing thermal storage may require that you only fire the boiler once daily to charge the tank.