3 Billy Stove Gasifier
Introduction
After many years of providing information about gasifiers through this site I thought it was about time I made my own.
So I have begun with the most basic of gasification principles, the gasifier stove. The Gasifier to power my car will have to wait until I retire (when will that be?) when I might be able to afford both time and materials… it will happen just a matter of time.
As an Australian I began searching for off-the-shelf materials to make a stove and went everywhere to find a cheap supply of materials including: Bunnings, general hardware stores, kitchen shops, Red Dot, $2 Dollar shops, Coles and Woolworths and "tip shops' in my search. Nothing turned up in the search for what I needed, and that I could direct to others to find containers that would fit inside each other like Russian dolls. Then it occurred to me that 3 billy cans could be purchased quite cheaply and would nestle nicely inside each other.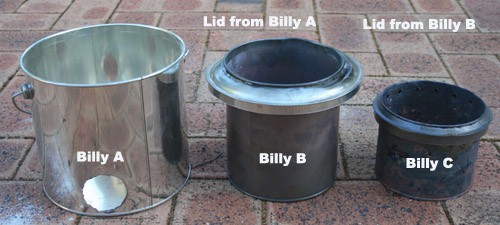 Billy Stove Gasifier Materials
I wanted to provide a construction method so any handy person could build a stove without having to master any fine skills. At the same time the stove needs to work properly as a true gasifier and I also wanted it to be atheistically pleasing. The 3 Billy Stove Gasifier stove design can be made with very few tools, no welding, screwing or riveting is involved.
3 Billy cans that will nestle inside each other
Pair of tin snips
Multi grips, pliers or similar
Hammer (to panel beat drilled holes)
3mm and 5mm punch
50mm hole saw attachment (otherwise use tin snips)
File to remove sharps and burs
Stainless steel pot scrubbers
Gloves for protection (jagged tin slices flesh very nicely)
The full Construction Manual (17 pages) can be downloaded here.