Gasifier Articles
Please look at the file size to estimate how long a download might take.To download, simply right click and 'save as' to your computer.
Home Grown Power Plants: The Case for Wood-Based Energy Systems in Sri Lanka  (5pgs, 1.9Mb) 2002,  Feature article, Refocus.net.
Producing Gas from Crop Residues  A pilot model downdraft gasifier demonstrated the feasibility of using crop and wood residues to produce low Btu gas (3 pages, 1.1Mb) 1980, Goss, J.R., and Coppock, R.H., California Agriculture.
Rural Energy System Based on Energy Forest and Wood Gasifier  (1 page) 1990, Ravindranath, N.H. et al., Centre for Application of Science and Technology to Rural Areas, India.
Guidelines for Safe and Eco-friendly Biomass Gasification  (91 pgs, 3.6Mb) Nov 2009, Lettner, F., Timmerer, H., and Haselbacher, P., Intelligent Energy, Europe.
Wood Gas Powered Vw's and Other Vehicles – Lighthook's document with links
Waste Gasification: Impacts on the Environment and Public Health  (20pgs, 436kb) 2009, A Technical Report Published by The Blue Ridge Environmental Defense League, North Carolina.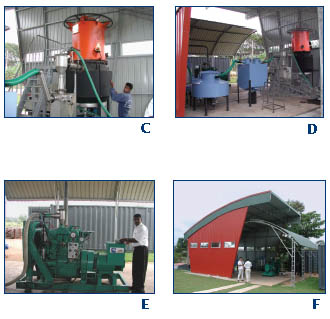 Source: Home grown power: The Case for Wood-Based Energy Systems in Sri Lanka



Source: Gas from crop residues