Gasifier Pellet Mills
PelHeat

 – The Ring Die Pellet Mill are small gasifier pellet mills produced in China but available in the UK through PelHeat. The Mini Pellet Mills pictured here works on the ring die pellet mill design. Most large scale commercial pellet production operations also use ring die in the design. The rollers and the die operate on a vertical axis, and where the inner and outer edges of the rollers cover the same distance across the surface of the die.
STAK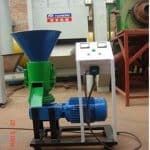 in Michigan, USA have gasifier pellet mills which contain self protection devices that monitor the temperature of the gear box and/or the pelletizing chamber. When the temperature becomes too high due to clogged holes in the die template or improper material loading, the machine will automatically shut down. These safety features prevent damage to the motor or other components. The mills have commercial application for those who might want to produce3 and distribute wood pellets.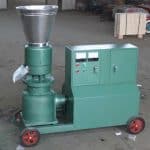 Pictured is the smallest of the wood pellet mills that Alaska Pellet Mills make, it is equipped with a 225mm die and uses both a hypoid gear to make the right angle turn, and then has a planetary gear between the main gear and the mixing chamber. It looks like a small section of pipe with a flange connector on each end.  It has a 7.5 KW (10hp) electric motor, is rated at 240 lbs per hour of pellet production for wood pellets. It will also make pellets out of most any leafy fodder or grain used to make animal feed.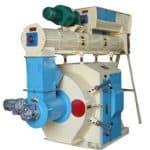 Large scale gasifier pellet mills are available like those made by KMEC (Henan Kingman M&E Complete Plant Co.,Ltd) a manufacturer in Anyang, China. The GC-MZLH series of gasifier pellet mills are designed for large scale pelletizing process with capacity ranging from 200 kg/s to 3 tons per hour. It includes a feeder system, conditioner, gear box, ring die pellet mill and lubrication system. Dried material is transferred to the conditioner by a screw feeder. Moisture content is the most important consideration for the pelletization of quality pellets. For this, the conditioner plays a key role in softening raw materials by utilizing water or steam. After softening, the raw material is sent by a feeder to the pelleting chamber. By spinning rollers in the chamber force the material through the holes of the die, thus pellets are formed.
Also see the Wood Hammer Mill page.