Gas Bag Buses
The photo of gas bag buses was taken in Shandong, China, in 1965 and showed several gas bag buses traveling along a street.  As stated by Low-tech Magazine, the buses continued to be used "in some regions of China and other Asian countries until the 1990s." The bus below in Chongqing was in use until the late 1970s (Source: Beijing Review, Image courtesy Hu Fei).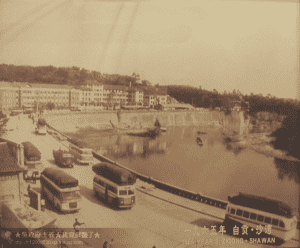 The bags are unpressurized, so the 'fuel tanks' are large enough to get a reasonable distance. There is plenty of room for big gas bags on buses. A streamlined fairing can enclose the gas bag, often strapped to the roof.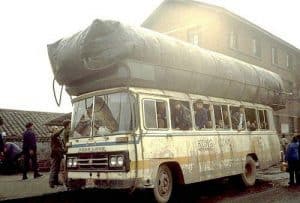 Lightweight fabrics such as silk and occasionally other fabric formed the storage bags. A rubber solution impregnated in the material provided an extra layer of protection from the pressurized gas. Zodiac was one of the leading manufacturers, known for its durability and reliability.
This fuel storage system was much cheaper and simpler to construct than traditional metal tanks. This helped make them a popular choice among vehicle owners looking to save money. The fabric-based system allowed for more flexibility in terms of installation, adapting to fit different shapes and sizes. Additionally, the gas bags are much lighter than metal tanks, helping to reduce the vehicle's overall weight.
Gasified buses have been around since the early 1900s when they started appearing on the streets in some European cities. They have become less common over time due to advancements in other technologies. Electric vehicles are one, but there are still some areas where gasified bus services remain popular today. The lightweight and cost-effective fuel storage bags see these buses continue to provide reliable transportation services for many people worldwide.