Gasifier Kits
Is building a gasifier too difficult? Well you could just buy from a range of gasifier kits. The links here explore various options. Please note we don't vouch for the availability, reliability or quality of any manufacturer or supplier of gasifier kits.
If you have purchased and own any of the gasifier kits below, please contact us with a review to assist others in their research. You may also wish to look at pellet mills or Large Scale Gasification systems.
Argentina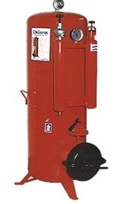 Gasogena Gada This company in Argentina manufactures small gasifiers, the range is from 1 pound to 10 pounds. According to one of our member's and even though the website is in Spanish, the companies answer contact e-mails in English. No idea about pricing.
Austria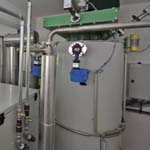 REP Renewable Energy Products GmbH is part of the Christof Group, a worldwide company experienced in complex plant construction, industrial services, engineering, electrical instrumentation and control technology, energy, environmental technology and oilfield service. REP has developed the wood gas power station HV1-3.6 which generates 22kW of elctric and 45kW of thermal energy. The unit use wood chips as feedstock and the plant is fully automated. A 4-cylinder gas engine functions as a combustion engine (CE) that is optimised for the requirements of wood and gas operation. The CE drives an asynchronous generator; the electricity produced by this is fed into the public electricity network.
Australia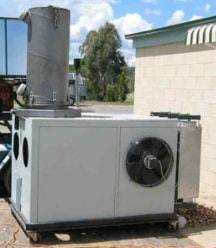 Gasification Australia Pty Ltd has commenced production of the 15 kWe Tasman Gasifier. Tasman gasifier modules (rated to supply gas for existing power generators up to 15 kWe) start at AUD $26,000 and can be trailer or skid mounted. Complete generator systems incorporating the gasifier with gas-engine and 15 kWe alternator are available from AUD $35,000.
Canada
Borealis Wood Power Corp is located in Burlington, Ontario, Canada. The wood-power plant was commercially launched to the market in 2009. Plant sizes vary from 30kW to 135kW. The engine used to combust the gas is a GM 5.7L Vortec V8 engine. The engine powers a 45kW generator to produce electricity. These appear to be custom built systems so no pricing provided.
Finland
Volter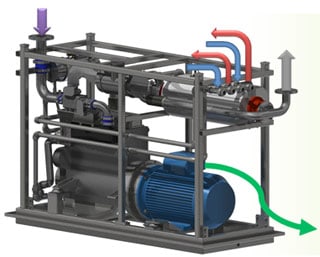 have operational gasifiers in a number of locations in Europe with 30 and 40kW electrical running off wood chips from birch, spruce, pine and aspen. There is a high level of automation that enables unattended operation and remote control. Waste heat from the process can be used in hydronic underfloor heating, preheating of air-conditioning or domestic water, for example. The electricity and heat for the ten houses in Kempele Ecovillage (Finland) are produced by a biomass CHP-plant in the village using Volter's wood gasification technology. Volter estimates (in Europe) that it takes approximately 20 cubic meters of wood to cover the annual electricity and heating needs and to charge an electric car for a family of six.
Germany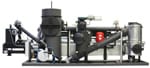 Spanner Re² GmbH is part of Spanner group and has 56 employees at the company's headquarters in Neufahrn/Landshut, Germany. Spanner Re² wood cogeneration plants produce decentralised electricity and heat from wood chips by using a wood gasifier. Depending on the model, the plant generates electric power between 30 and 45 kWel and a total heat power of 80 to 120 kWth. Wood chip consumption is between 30 and 45 kg/h, equalling a consumption of approx. 1 kg/h wood chips per kWel electric output. The system has been installed across Europe providing heat and power for farms, wood processing, supermarkets and community cooperatives.
India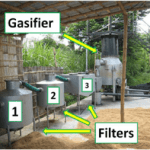 Husk Power Systems designs, installs and operates gasifier plants in the range of 25-100kW. Since 2008 HPS has installed 80 plants in Bihar. HPS designs multi-fuel gasifiers which can use multiple types of feedstock such as rice husk, wheat husk, mustard stems, corn cobs and wood chips. An innovative and cheap pre-paid meter (US$8 per unit) enables electricity to be sold like mobile phone talk-times where consumers get their meter charged with the amount of money they have and the meter automatically disconnects supply after the credit is exhausted.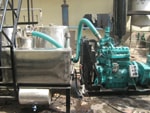 MRC Green located in India with units ranging from size that will run 2kVa – 100kVa generators. Features include: Fuel level Indicator; Temperature Indicator; Generator speed and voltage controller; Ash grate Auger Motor Control; 110mm LCD display; Pic Microcontroller for Gasifier and Generator; Pressure Indicator; Auger Feeding System; Sound proof (optional); No water for cleaning and cooling the gas ; Tar free; Fuel dryer by CHP; Air pre heating technology; Remote monitoring options; Flame temperature up to 650C; and Mobile. Price as per the website is US$5,500 for a 5kVA unit FOB to United States.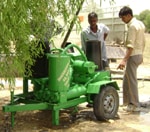 National innovation Foundation – India, Department of Science and Technology, Government of India. The conventional design has been modified to filter gas and cool unit to get clean gas and ensure smooth operation of engine at low operational cost. It is a compact down draft type bio- mass gasifier used to run a Diesel Engine. Capacity is 5kw to 50 Kw. Claims that many types of feedstock can be used: wood waste, stalks of cotton, pluses, coconut shells, coconut palm stalks, maize cobs, rice husk, branches & twinges, briquettes of various agricultural residues, Certain Industrial wastes of paper and mill waste.
Singapore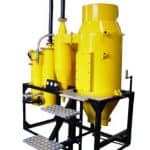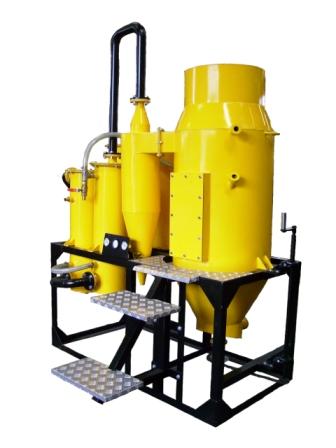 Trillion Gasifiers are based in Singapore. The gasifier kits are widely used in Myanmar with more than 600 units sold in the first 18 months of launching of the product. The Trillion Gasifier is designed to generate producer gas that can be piped directly to any conventional diesel engine for bi-fuel operation. It utilises biomass such as rice husk, sugarcane pulp, wood chips, wood shavings, coarse sawdust, palm oil kernel shell or fibre etc. A specially designed filtration system can clean up the gas giving a gas quality that is fully in compliance with the FAO specifications. An Operations Manual is available in our Product Manual section.
United States
NSR Gas Station gasifier units are built by Northern Self Reliance (NSR) located in Amherst, Maine. This package is comprised of the "Victoria" a six inch gasifier manufactured by NSR with cooling, cleaning and carburetion components to run a small 8-13hp engine or generator. The generator and trolley cart as pictured are not included in the kit. The Gas Station is currently (20 July 2014) advertised for $US1,995 plus shipping costs. Of interest to gasifier builders will be the NSR manufactured Carburettor Adapters,  Cyclone Dust Filters, Starting Suction Flares, and Final Filter Assemblies. View the NSR link above for more information.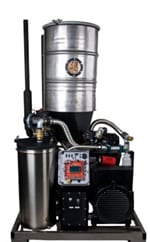 The Power Pallet is manufactured by All Power Labs based in Berkley, California, United States. Undoubtedly, All Power Systems have contributed to the current and available knowledge-base for small scale gasifier systems. The project started in 2008 with the open source Gasifier Experimenter's Kit (the GEK) and has progressed a long way since then. They offer a 10kW Power Pallet System for $US18,995 and 20kW system for between $US26,995 – $34,995 plus shipping costs. According to Tom, a spokesperson for All Power Labs, there are now more than 400 of these units across the world.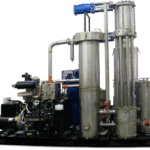 Superior Gasification are based in Missouri, USA. The Elite Series gas producer are built from stainless steel, fully automated, with a unique 'sure fire' starting and 'pure gas filtration'. Preferred feedstock's include wood chunks 1 to 4 inches, wood rounds, rice husks, coconut shells, corn stocks/cobs, manure, and nut shells; up to 25% plastic wastes per load! A 20% moisture content maximum is recommended.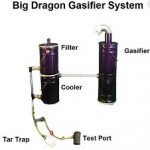 Tactical Wood Gas Inc., is run by Mike Leister from Washington, United States. The business provides alternative energy solutions for rural, off grid and emergency power needs. The "Little Dragon" is the smaller gasifier and is able to power a small generator. The units are rudimentary in design and review of this design (the Big Dragon unit) is on YouTube.